I.D.A. Mark Tompkins' Company
Performances
Teaching and Research
LULU an operetta of circumstance
LULU
an operetta of circumstance

(2008)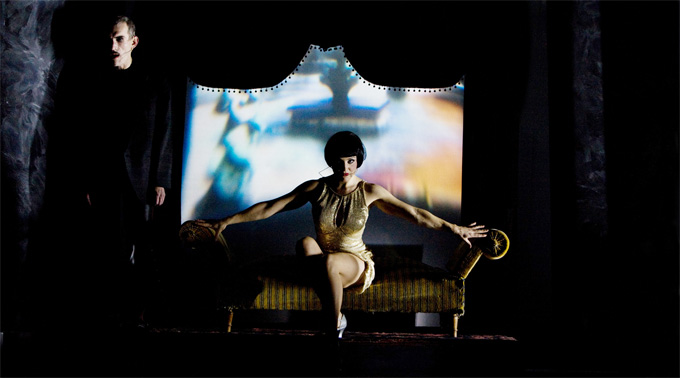 with
Alexandra Sarramona : Lulu
Mark Tompkins : the Others
Artistic Direction, Livret and Lyrics : Mark Tompkins
Direction Musicale et Orchestration : Nuno Rebelo
Music : Nuno Rebelo with Mark Lewis Tompkins

Scenography and costumes : Jean-Louis Badet
Video : Gilles Toutevoix and Jeff Denisse Philippot
Light and technical direction : Rodolphe Martin
Sound : François Piednoir
Acting Coach : Eric Domeneghetty
Voice Coach : Evelyne Menaucourt
Administration, touring : Amelia Serrano
Administrative assistant : Sandrine Barrasso

Musicians :
Rita Franco – violon, Teresa Fernandes – viola
Teresa Rombo – cello, Pedro Wallenstein – double bass
Paulo Curado – flute, Andrew Swinnerton – oboe
Joaquim Ribeiro – clarinet, Carolino Carreira – bassoon
Johannes Kriegger – trompet, Eduardo Lala – trombone
Augusto Rodrigues – french horn, Nuno Rebelo – electric guitar, percussions
Creation november 14, 2008 Théâtre Pôle Sud, Strasbourg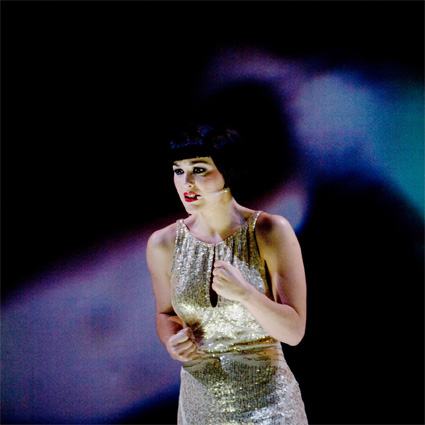 LULU LABYRINTH
LULU is a musical drama, a contemporary tragedy, an operetta of circumstances which evokes the trajectories of those who search for love, and do not understand why the world refuses it to them. Constructed around the mythical character of Lulu, it is framed by the dance of desire of her transfigured destiny when facing others who can not love or be loved.
The principal sources for the project are Wedekind's plays and Pabst's film, whose texts and images serve as references, supports and inspirations for the songs and stage actions. We are more interested however in the mental space that Lulu and her partners represent than by the original story line. Working with the material of Lulu today requires that we reposition ourselves, less in regards to the legend of the « femme fatale », and more in terms of the question of desire.
LULU is a love duet, sung and danced by a woman and a man (the Others). In effect, Mark Tompkins sings all the other voices (Schön, Alwa, Schligoch and Jack the Ripper. By reducing the protagonists to a woman and a man, we create a symbolic space, by multiplying their images with video, we fabricate « the Lulu labyrinth ».
In the center, the constantly changing character of Lulu, heroine of her desire's passion, which she lives until the end, until her loss. Around her, « the Others » : hers, ours, the people of our pulsions, suffering for love, and who do not know how to love or be loved. We, spectators of our own intimate Lulu, inconsolable voyeurs of the other's desire, witnesses to the spectacle of a woman who goes to her destiny's end.
« We can all still become crazy », writes Wedekind. And that is exactly what it is about. Crazy from the desire that holds us and makes us live so feverishly, so tragically. Crazy from the desire to live, of course, but above all the phenomenal desire searching tirelessly for love. Wanting to be loved even at the risk of life ! This is the drama of Lulu and of those whom she attracts into her irresistable passion. Because « she cannot live from love since it is her life that is love ». So Lulu burns, and it is this fire, the flow of this tragedy-monster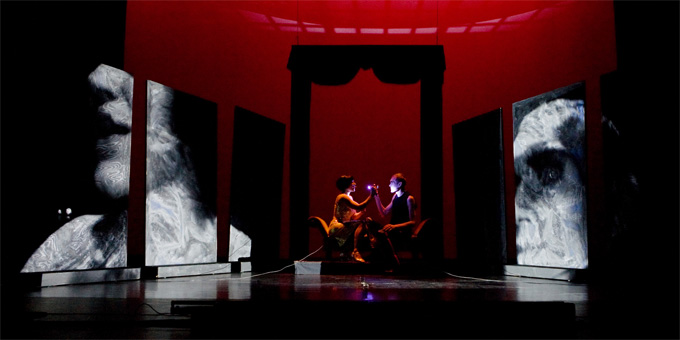 L'utilisation des textes et photos présentés sur ce site sont protégés par les règles relatives à la propriété intellectuelle. Merci de nous contacter pour toute utilisation ou reproduction, même partielle, des éléments de ce site.
La Cie I.D.A. Mark Tompkins est subventionnée par la DRAC Ile-de-France / Ministère de la Culture et de la Communication au titre de l'Aide à la compagnie et par la Ville de Paris.