I.D.A. Mark Tompkins' Company
Performances
Teaching and Research
OPENING NIGHT a vaudeville
OPENING NIGHT

a vaudeville (2012)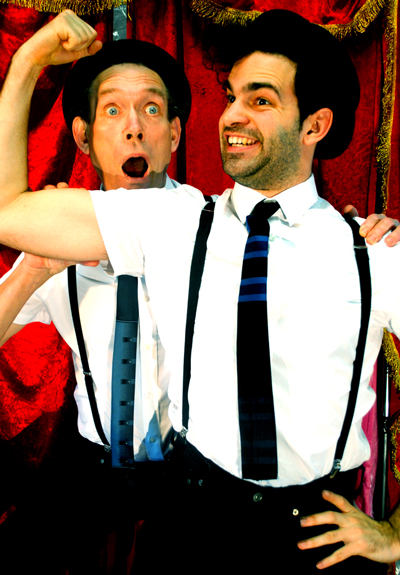 Starring Mark Tompkins & Mathieu Grenier
Crisis? What Crisis?
There's No Business Like Show Business !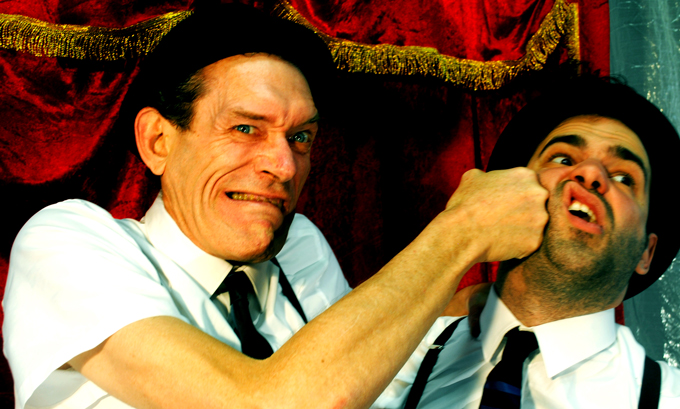 AMERICAN VAUDEVILLE

American Vaudeville (1880-1930) represents, at the same time, the prolongation and the renewal of the Minstrel Show. Influenced by the massive arrival of European immigrants, and notably Jews from Eastern Europe, Vaudeville assimilated many of the mechanisms of this tradition, like song-and-dance or stand up comedy, but differed significantly by the format and content. Vaudeville shows were a series of eclectic numbers or acts, in which the Black and White dichotomy and the racial connotations of the Minstrel Show had disappeared, replaced by an ethnic sensibility much larger.
In a typical Vaudeville show, ten to fifteen numbers followed each other: song, dance and comedy routines, animal, magic and circus acts…The success of Vaudeville, in comparison to other types of theatre like Variety, Burlesque or Music Hall, came from its engagement to offer respectable entertainment for the whole family. During Vaudeville's golden age, sumptuous and modern palaces of consumption were built where the continuous show turned day and night. The American concept of mass entertainment was born.
OPENING NIGHT
OPENING NIGHT
is a contemporary vaudeville performed by Mark Tompkins, an ageing hoofer, and Mathieu Grenier, his young sidekick. With their tragicomic song-and-dance numbers, they speak to us of the universal themes of life, love and death. The common love they share for vaudeville and music hall is the starting point of their encounter and confrontation.
Somewhat irreverent, the two protagonists juxtapose yesterday's popular dances like tap and soft shoe with today's body rhythms and beat box. They journey through a century of pop music's hit songs: Are You Lonesome Tonight by Elvis Presley; Run The World (Girls) by Beyonce; You've Lost That Lovin' Feelin' by the Righteous Brothers; Mad About the Boy by Noel Coward; One Night Only from Dreamgirls; There's No Business Like Show Business by Irving Berlin, and their own new compositions: I Wanna Be A Hero; Be A Star; Voilà, Voilà, Voilà; Hey Brudder.
The stage design consists of light and transformable elements: a silver curtain, several stepladders, an ironing board and a costume rack on wheels, that can be transformed into a theatre curtain or an alter. Lots of unlikely and offbeat costumes complete the disposition. The play between onstage and backstage serves as the dramatic motor of the piece. The truth of the show and the lies of life, if not the opposite, intertwine as the evening unfolds.
L'ENJEU DU JEU OR THE COST OF THE GAME
At first, OPENING NIGHT appears to be simply an entertainment, a show full of comic situations and song-and-dance numbers. It's Vaudeville for the poor, with the two actors performing all the acts and playing all the roles (almost). The set, the props, the costumes, the unpolished acts and two technicians lurking in the wings: everything leads to believe that it's a production a bit cheap or trash.
But at the same time, an ambivalent and touching fable emerges, about the joyful but sometimes difficult transmission between an ageing Star and his young and talented protégé, ready for anything to succeed. The alchemy that takes place between these two beings, devoted body and soul to the Show, soon achieves another level of depth. In this world, to win one's legitimate place or to surrender one's place humbly and without regrets, these are the true themes of OPENING NIGHT.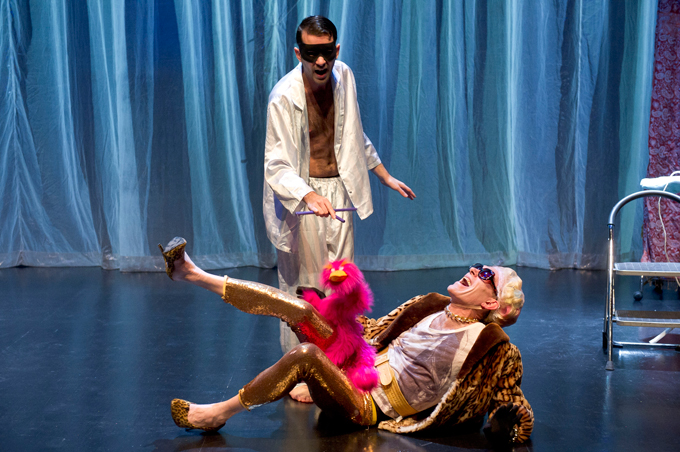 Junior and Momma

with
Mark Tompkins : Momma, Mr. T
Mathieu Grenier : Junior
Rodolphe Martin : Rodo the dog, Salomé, Athéna
Jean-Louis Badet : Lulu

Conception: Mark Tompkins in collaboration with Mathieu Grenier
Set design and costumes: Jean-Louis Badet
Light design and technical direction: Rodolphe Martin
Stage direction: Frans Poelstra
Assistant: Alix Denambride
Administration, touring: Amelia Serrano
Administrative Assistant: Sandrine Barrasso
Thanks to Muriel Herman
Premier – August 2nd, 2012 - Festival ImPulsTanz in Vienna
Duration 65'
This performance can tour in small theatres and music venues.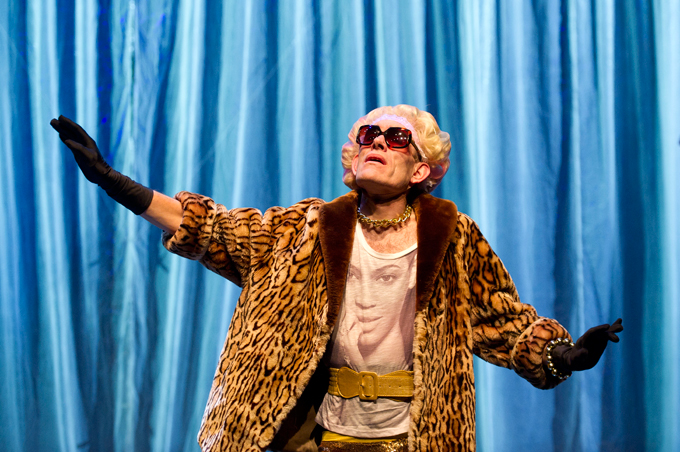 PRESS EXTRACTS
OPENING NIGHT is not only a cavalcade upon the sentimental waves of cabaret, but also an ironic reflection on the entire entertainment trade.
Helmut Ploebst, Der Standard, August 4, 2012        
Who said Variety was dead?
Mark Tompkins and Mathieu Grenier pamper it in the purest style of vaudeville and music hall that ever saw the likes of Charlie Chaplin or Stan Laurel. In OPENING NIGHT, Mr. T, the old hoofer meets Junior, the young maverick and their tragicomic song-and-dance numbers are continually disturbed by two very versatile technicians. The motor of the dramatic play between onstage and backstage unveils the truth of the show and the lies of life. Finally, these new Variety artists are the antichrists of the dominant trend in contemporary dance, who with their enlarged stylistic visions, rise up against the sober coldness of conceptual dance.
Alfi Oberhausen, Falter, August 4, 2012
OPENING NIGHT is one of the highlights of ImPulsTanz 2012. Although it is set as a low budget short history of vaudeville, in its essence it is a melancholic contemplation of life, love and aging. It made me laugh, it made me cry, and is still with me several days later. (…) The idea of performativity and performance, one of the central points in current dance theory and practice, is demystified and scaled down to pure entertainment. It is actually refreshing to go back to basics, in an ironic but not cynical manner. Needless to say, the actions are directed and choreographed with the evidence of deep research and knowledge about vaudeville and performed with enviable competence.
Sometimes one is just blown away by a theatre piece. This happened to me last night with OPENING NIGHT. Theoretically, the piece is billed as light entertainment and performance art, two of my least favorite genres. At least that's what I thought until I saw Tompkins and his partner Mathieu Grenier perform. Both gentlemen are gifted singers and very accomplished actors. They are very funny but do not camp it up. No, they pack their material with meaning and absurdity, and push it to the extreme. It would be great if other artists could see this piece to learn how real work is done.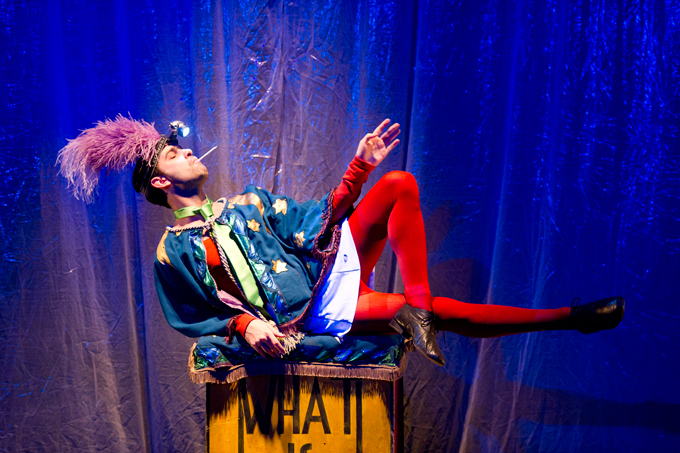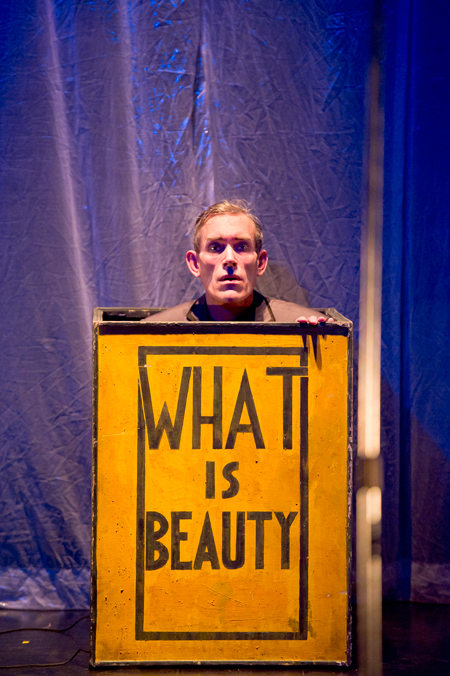 Théâtre de la Cité internationale, Paris du 24 au 29 janvier 2013 
Mark Tompkins presents a hilarious and witty American Vaudeville
Immense enjoyment. There are still a few people who know how to enchant the world. Everything begins with a pink sequin curtain of unparalleled kitsch, which opens onto another silver curtain. And so begins an insane journey where ironing boards waltz, highly unprofessional magicians botch their tricks, and totally depressed and worn-out dream-creatures still top the bill thanks to their off-color elegance. The duet of Mark Tompkins and Mathieu Grenier works perfectly. Their voices are melodious, their steps come from ballroom and street dance, their rhythm lively, their sets improvised, and their comedy tempered by devastating reality. Here is the truth of the show and the lie of life. Opening Night is the kind of revue we'd like to see more often. Together, Tompkins and Grenier throw one hell of a party, where a few colored straws scattered on stage become the most enchanting of décors.
Marie-Christine Vernay, Libération, January 25, 2013
Mark Tompkins on the edge, as always
His voice cracks, his breath fails him. But he still champions political incorrectness, bad taste, poverty, the almost nothing. He has the courage to be pathetic, even ridiculous and have fun with it. It takes flair to lump together so many handicaps. But because There's no people like show people, they smile when they are low, Mark Tompkins shows no fear. A stage-junkie high on sequins, he makes no excuses. Whether dressed as an old drag queen with gold leggings, or disguised as a folk dancer with a huge mustache, he moves from act to act with verve. Partnering with Mathieu Grenier, a talented young dancer with whom he conceived the show, he delivers a discomforting manifesto on the destiny of an artist who is part glam-rocker, part aging artist, ready to die on stage… while having the time of his life.
Rosita Boisseau, Le Monde, January 26, 2013
Mark Tompkins the Wizard!
Mark Tompkins revisits American Vaudeville for his pleasure and ours with this gem of a show. The impression of a cabaret on its last legs, a string of more or less deliberately bungled acts, and the chaos of a rivalry between two artists. Mark Tompkins has found his alter ego in Mathieu Grenier. Their camaraderie is marvelous, hilarious, and their duo is quite simply a match made in heaven. There is something bittersweet about seeing the older man passing the torch to the younger one without renouncing to his life. But bittersweet doesn't mean nostalgic, Tompkins is part of a living tradition. Close to entertainment, he has long explored the history of dance, mixed genres, and shown the necessary porosity of any creative act. As a question of survival, he builds bridges rather than fences. The caustic irony with which he clings to vaudeville isn't cynical. It's the loving homage of a veteran showman who refuses to separate genres. Let's go on with the show!
Denis Sanglard, Un Fauteuil pour L'Orchestre, Jaunary 28, 2013
Beyond the laughter, what chokes you up in Opening Night are the questions of transmission and growing old as an artist. Momma can't catch her breath like she used to, but you can be sure she'll draw her last one on stage. Never cynical, with a deep love for the stage, Mark Tompkins and Mathieu Grenier carry this unlikely show from start to finish. And it's a joy to see these kids play with abandon, go for broke, let down their defenses, without fear of ridicule. The curtain closes. Momma and Junior treat us to an encore! There's no business like show business, Everything about it is appealing. Superlative!
Véronique Klein, Mediapart, January 25, 2013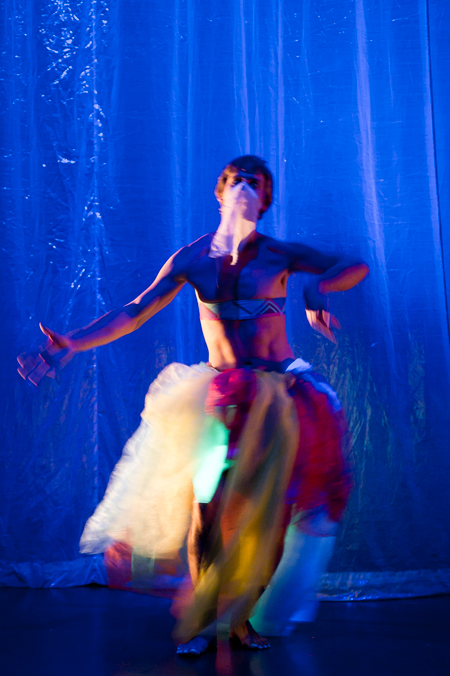 Opening Night plays out in sequins and feathers, fake leopard-print furs and diaphanous veils, in a maelstrom of short tragicomic numbers. Everything clicks in these acts that revisit Music Hall's greatest hits: the nostalgic diva making a comeback in her gold leggings and old-fashioned curlers, the boisterous Junior who tends to steal the spotlight, the hilarious duos and the most incongruous of situations, such as their appearance as mustached Egyptians swinging their hips to Beyoncé. Complicity is on the menu. The frankness with which they fool one another ends up winning us over. It's the tension between generations that fuels the substance of the piece, a passing of the torch. While we're sure to hear more about Mathieu Grenier, whose incredible chutzpah wins the audience over, it's also a safe bet that Mark Tompkins hasn't said his last word – we await his future works with as much enthusiasm.
Smaranda Olcese, toutelaculture.com, January 27, 2013
Tompkins' generosity, if you can call it that, invites us to partake in situations and feelings, however intimate or unsettling they may be! Facing us, the artists play constantly to the audience. Grace seizes us immediately, but so does discomfort. As in his solo Song and Dance, the survivor cries his rebellion against clichés, taboos, limits, and death with a certain brashness that is provocative but never vulgar. But moments of tension are perfectly orchestrated so as not to give into pathos, instead skillfully building on the show's vibrancy. The audience is won over, the thunderous applause is never ending.
Sophie Herbin, Danzine, January 27, 2013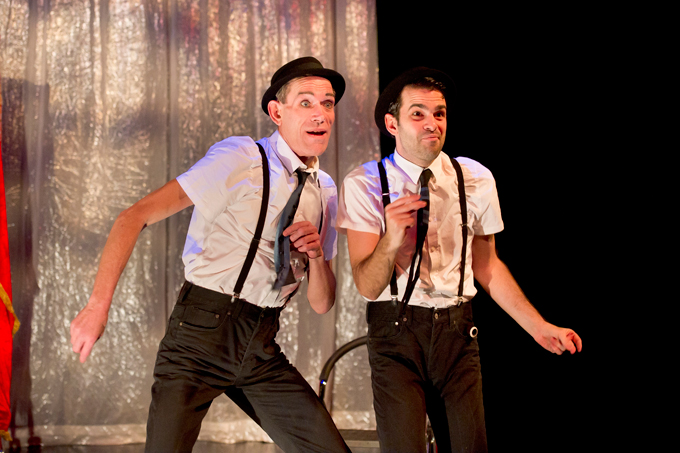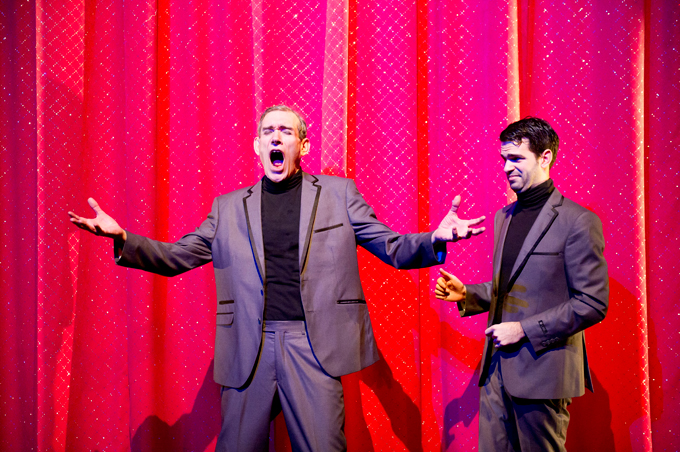 Opening Night is as light-hearted and fresh, as playful and messy, as it is precise and well paced; it is a short, spontaneous form without pretension. It is also a duo with Mathieu Grenier, the choreographer's new right-hand man and sort of theatrical mirror image. Because whereas Tompkins is disproportionately tall, gangly, and endowed with a singular face, or mug, as we say in the cinema – physically out of the ordinary, burnished by the years – Grenier is as unblemished as a young heartthrob, without identifiable angles or characteristics, a sort of clone of the average Joe. But gradually, as the numbers change, the two get closer, come to an understanding, and even merge, mirroring each other in song or dance numbers in which their talent explodes. We already knew about Mark Tompkins' talent, we discover Mathieu Greniers', a natural on stage, charismatic and brilliantly gifted, singing and dancing with such ease that it makes the underlying technique invisible. Watching him, it's no exaggeration to say this young man is a revelation… 
Marie Plantin, Pariscope, January 29, 2013
Mark Tompkins on top
Tompkins and his multi-talented duettist (the excellent pianist-singer-dancer, and above all actor, Mathieu Grenier), bolstered by the also versatile stage wizards Rodolphe Martin and Jean-Louis Badet, revisit entire swaths of American pop music culture. Dances for TV shows reproduced with devilish precision, style and flair, a certain sense of irony, and tremendous subtlety. In this show, nothing is self-congratulatory or reactionary. The dances are of course carefully polished, whether soft shoe tap worthy of Bill Robinson or Fred Astaire, pseudo-Egyptian gesticulations in homage to vaudeville performers Wilson, Keppel and Betty, or Beyoncé's chorus boys in a cover of her song Run the World! Girls. What's more is, the show's artifices, designated as such and breezily made fun of several times and on several levels using a bare bones set design by Jean-Louis Badet and clear and precise lighting by Rodolphe Martin, continue to fascinate the audience… 
Nicolas Villodre, Umoove, January 28, 2013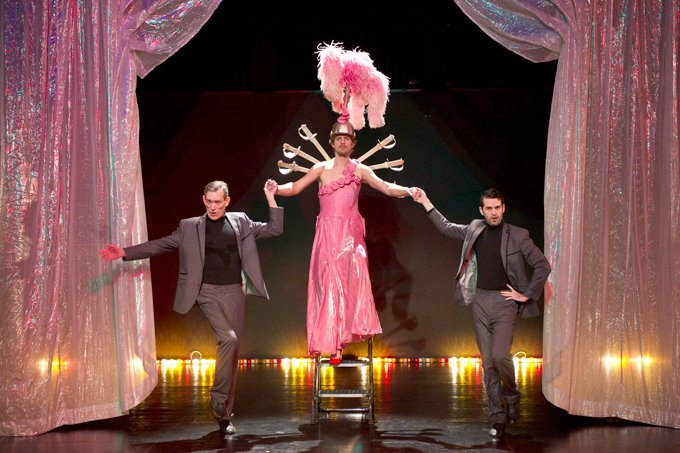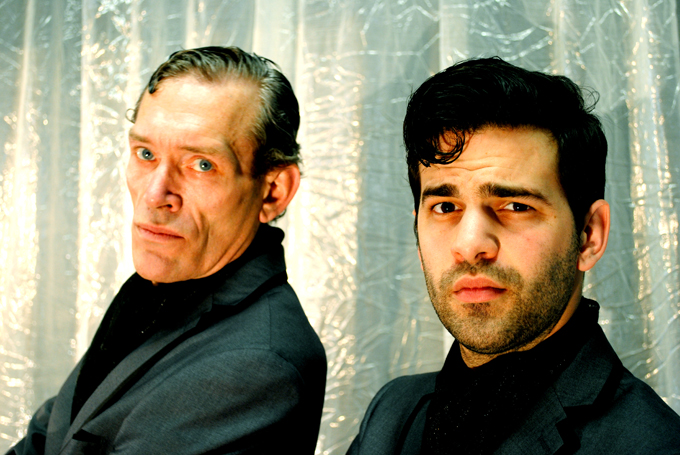 BIOGRAPHIES
Mark Tompkins
Is an American dancer, choreographer and teacher living in France since 1973. After a series of solos and group collaborations, he founds the company I.D.A., International Dreems Associated, in 1983. Over the years, Tompkins' unique way of fabricating unidentified performance objects has become his signature. Solos, group pieces, concerts and performances that mix dance, music, voice, video and text are steps of this journey initiated in the 70's, and continued with the complicity of the set and costume designer Jean-Louis Badet since 1988. His interest in improvisation and real time composition leads him to collaborate through teaching and performing with many dancers, musicians, light designers and video makers. His recent performances evolve towards musical theater, inspired by music hall-ANIMAL; operetta-LULU, cabaret-kings&queens; minstrel show-BLACK'N'BLUES; vaudeville-OPENING NIGHT and musical comedy-SHOWTIME. In 2008, he receives the prestigious SACD Choreography Prize for all his work. (Society for Dramatic Authors and Composers)
Mathieu Grenier
Studies music, theatre and dance at the Regional Conservatory in Bordeaux. In 2009, he participates in the ex.e.r.ce program at the CCN of Montpellier with Mathilde Monnier, Mark Tompkins, Loic Touzé et Stéphane Bouquet. He joins I.D.A. in 2010 in BLACK'N'BLUES. In 2012, he creates two duos: When I don't dance I collect crystal balls with Magdalena Chowaniec at Tanzquartier in Vienna, and Petit éloge 2 with Julie Oosthoek at the Cuvier-CDC Aquitaine. He is musician, arranger and composer of the group The Toys.
Jean-Louis Badet, Stage and Costume Design
After painting studies at the School for Fine Arts in Paris and Perugia in Italy, he moves to Denmark, where his painting activities lead him to collaborate with many choreographers, creating sets and costumes. From 1980 to 1992, he directs Espace Danse at the French Institute of Copenhagen, which presents and produces young French and international choreographers. Since 1988, he is the stage and costume designer and artistic collaborator of the company I.D.A. In 2010, he performs in Christian Rizzo's L'Oubli, toucher du bois.
Rodolphe Martin, Light and Technical Direction
As technical director for several companies, he develops a personal way of transforming any space, from an industrial site to a traditional theater, into a stage. He discovers the rigors of light design, technical direction and different esthetics collaborating with Carolyn Carlson, the company Lahorsde, Eric Massé. Since 2007, he designs light for I.DA. – ANIMAL, LULU, empty holes, kings&queens, and also performs with the company.
Frans Poelstra, Collaboration stage direction
Dutch performer, he improvises with Steve Paxton, Lisa Nelson, Mark Tompkins, Sasha Waltz, Vera Mantero, Benoît Lachambre, David Zambrano, Katie Duck…With I.D.A., he performs in Nouvelles, La Plaque Tournante and Home, and helps stage Song and Dance and ANIMAL. For the last few years, he collaborates with the dramatist/performer Robert Steijn. Their productions, especially Frans Poelstra, his dramaturg and Bach, tour around the world.
L'utilisation des textes et photos présentés sur ce site sont protégés par les règles relatives à la propriété intellectuelle. Merci de nous contacter pour toute utilisation ou reproduction, même partielle, des éléments de ce site.
La Cie I.D.A. Mark Tompkins est subventionnée par la DRAC Ile-de-France / Ministère de la Culture et de la Communication au titre de l'Aide à la compagnie et par la Ville de Paris.