I.D.A. Mark Tompkins' Company
Performances
Teaching and Research
MARK TOMPKINS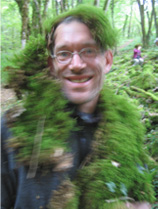 Mark Tompkins is an American dancer, choreographer and teacher living in France since 1973. After a series of solos and group collaborations, he founds his company, I.D.A. in 1983. Over the years, Tompkins' unique way of fabricating unidentified performance objects has become his signature. Solos, group pieces and concerts that mix dance, music, voice, text and video are steps of this journey initiated in the 70's, and continued with the complicity of set and costume designer Jean-Louis Badet since 1988. His passion for improvisation and Real time composition leads him to collaborate with many dancers, musicians, video makers and light designers. Renowned for his teaching, he travels extensively around the world.
Winner of the International Choreography Contest in Bagnolet in 1984, he creates a trilogy, Trahisons - Men, Women, Humen, inspired by photographer Eadward Muybridge's study of the human body in motion, presented at the Montpellier Dance Festival in 1987 and in 1988, Nouvelles for the Avignon Festival, based on the novel IDA by Gertrude Stein.
From 1990 to 1992, he produces La Plaque Tournante, a series of unique site specific performances involving dance, music, video and light with his company and local artists in ten European cities. Returning to the traditional theatre space, he creates Home (the best of all worlds) (1993), a vaudeville comedy for four performers, Channels (1994), a large scale urban fantasy for seven dancers and three musicians, and Gravity (1996), a reality show for five performers and video.
In the 90's, he creates and performs many solos, reunited since 1998 in an evening called Hommages: La Valse de Vaslav (89) for Nijinski, Witness (92) dedicated to his mentor, dancer and choreographer Harry Sheppard, Under My Skin (96) for Josephine Baker and Icons (98) for Valeska Gert.
Artist in residence in Strasbourg from 1998 to 2000, with a company of eight performers, he creates La vie rêvée d'Aimé (1999), a musical comedy for adolescents of all ages, and remiXamor (2000), a panorama of the body of desire. The company also offers an intensive program of classes, workshops, jams and events to both amateurs and professionals, including l'Heure C'est l'Heure, an eight-hour Dance Marathon that crosses the entire city with more than 200 participants.
From 2001 to 2008, Mark Tompkins is associated artist with the Théâtre de la Cité internationale in Paris where he develops En Chantier 2001-2004, a project that includes 80 improvised performances in the construction site of the rehabilitated theatre. A DVD, with more than three hours of films, documents and performance extracts retraces this extraordinary adventure. In 2003, he creates a solo, Song and Dance, an ode to the lone performer on stage after the show, when the curtain falls, when the lights go out, and the technicians strike the set. In 2005, he creates a solo, Sept Voiles, and a group piece, ANIMAL Male, which addresses the themes of combat, survival, power and domination, followed by a feminine version, ANIMAL Female in 2007.
In 2005, he forms a rock band and releases an album, Mark Lewis and the Standards, with Portuguese composer and musician Nuno Rebelo and three other Portuguese rock dinosaurs. In 2006, they create LOST&FOUND, a more intimate duet, and in 2007, he creates a solo karaoke concert, kings&queens.
In 2008, for the 25th anniversary of the company I.D.A., Mark Tompkins reincarnates a solo from 1983, empty holes - the life and love and death of John and Doris Dreem. He also creates LULU an operetta of circumstance, with original music by Nuno Rebelo and Mark Tompkins. He receives the prestigious SACD Choreography Prize for all of his work. (Society of Dramatic Authors and Composers)
In 2010, he creates PUTTIN' ON A SHOW a musical revue with the students of ex.e.r.ce. at the National Choreography Center in Montpellier.
From 2010 to 2013, he creates an American trilogy, inspired by the history of American theatre from 1830 until the present. These performances are entertainments yet contain strong social commentaries. They are not reconstructions or revivals, but use past theatrical forms to address vital issues of today. BLACK'N'BLUES a minstrel show (2010) is a contemporary minstrel show that lightheartedly questions the issues of racism and sexism. OPENING NIGHT a vaudeville (2012) explores the complicity and rivalry between an aging showman and his young sidekick through the themes of transmission, aging and death. SHOWTIME a musical (2013) revolves around gender and identity troubles, and the difficulty to love and be loved, with original music by Mathieu Grenier and Mark Tompkins.
During this same period, he creates three duets: EVERYBODY (2012) a concert with composer and double bass player Sarah Murcia, STARDUST (2012) a zany and queer improvised duet with American choreographer Jeremy Wade, and A POWER BALLAD, the story of two sisters trying desperately to make a comeback in showbiz, with the Portuguese choreographer Mariana Tengner Barros.
In 2014, he creates VETER NOROSTI (A Wind of Madness) for the Mladinsko Theater in Ljubljana, Slovenia, a tragicomedy for four actors, a diva and a singer, that mixes popular forms of Slovenian folklore and American music hall.
In 2015, he creates LE PRINTEMPS, a piece for three dancers, Silvia Di Rienzo, Anna Gaïotti and Ananda Montange, and the Palestinian musician and singer, Kamilya Jubran, who question the themes of exile, wandering and emancipation. 
L'utilisation des textes et photos présentés sur ce site sont protégés par les règles relatives à la propriété intellectuelle. Merci de nous contacter pour toute utilisation ou reproduction, même partielle, des éléments de ce site.
La Cie I.D.A. Mark Tompkins est subventionnée par la DRAC Ile-de-France / Ministère de la Culture et de la Communication au titre de l'Aide à la compagnie et par la Ville de Paris.