I.D.A. Mark Tompkins' Company
Performances
Teaching and Research
VETER NOROSTI (UN VENT DE FOLIE)
VETER NOROSTI

UN VENT DE FOLIE a commission for Mladinsko Theater, Ljubljana
2014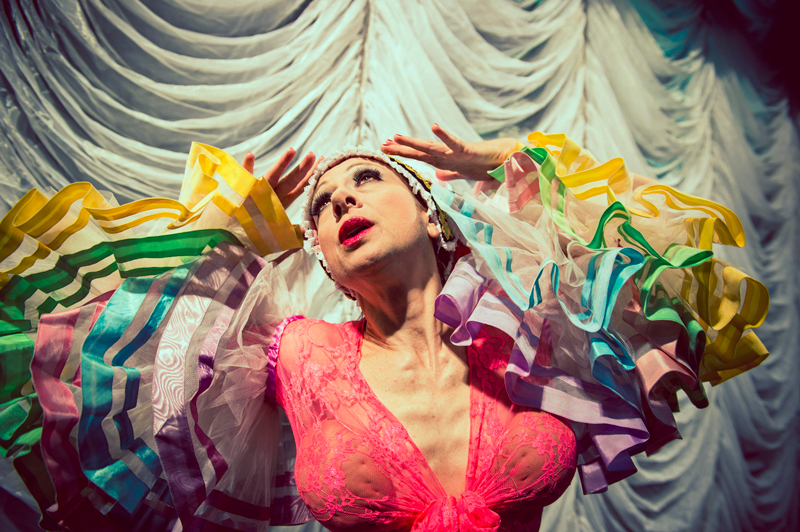 With
Primož Bezjak
Aleš Hadalin
Uroš Kaurin
Boris Kos
Maruša Oblak
Blaž Šef 
Concept and Rrtistic direction: Mark Tompkins 
Set and Costume design: Jean-Louis Badet 
Dramaturgy: Tomaž Toporišič 
Assistant dramaturgy: Urška Sajko
Light design: David Cvelbar
Sound: Silvo Zupančič
Costumes: Andreja Kovač
Accessoires: Gašpar Tesner
Make-up: Nathalie Horvat
Stage manager: Urša Cerv
Duration: 65'
Premiered May 17, 2014 at Mladinsko Theater, Ljubljana
COPRODUCTION
The Mladinsko Theatre Gledališče, Ljubljana, Slovenia, with the support of the Institut Français,
La Cie I.D.A. Mark Tompkins receives funding from la DRAC Ile-de-France /
Ministère de la Culture et de la Communication au titre de l'Aide à la compagnie.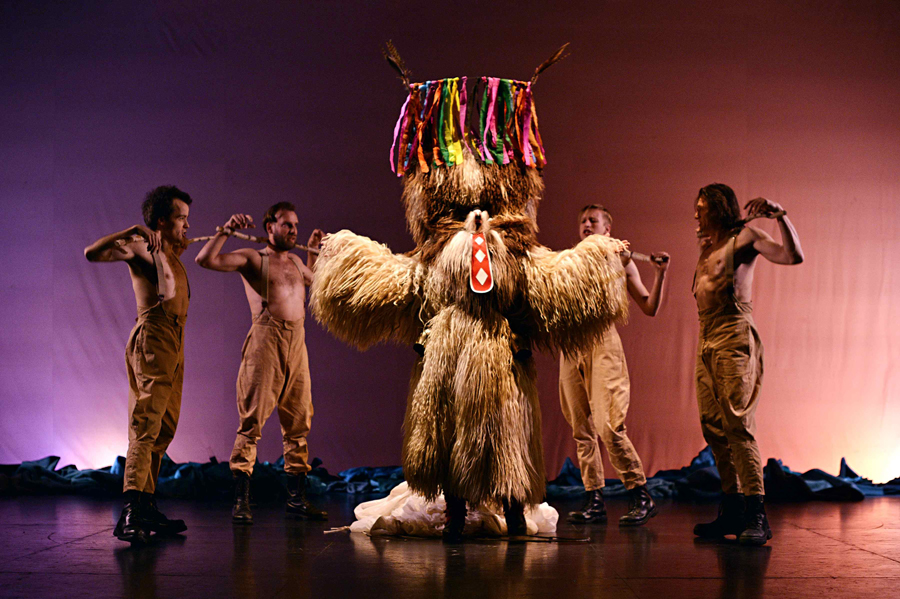 VETER NOROSTI (UN VENT DE FOLIE) explores the universal themes of transformation, renewal and decay. The piece mixes extremely heterogeneous elements and styles; the Slovenian folklore figure, Kurent (Wildman); the verbal assault of Antonin Artaud's The Plague; John Ford's sulfurous tragedy of incest, Tis Pity She's A Whore; a burlesque version of the Wild West; Slovenian and American pop standards... By the use of contradictory associations and the accumulation and interweaving of these disparate scenes, intricate soundscapes, complex images and composite pictures emerge and vanish. Nothing is created, nothing is destroyed; everything is transformed.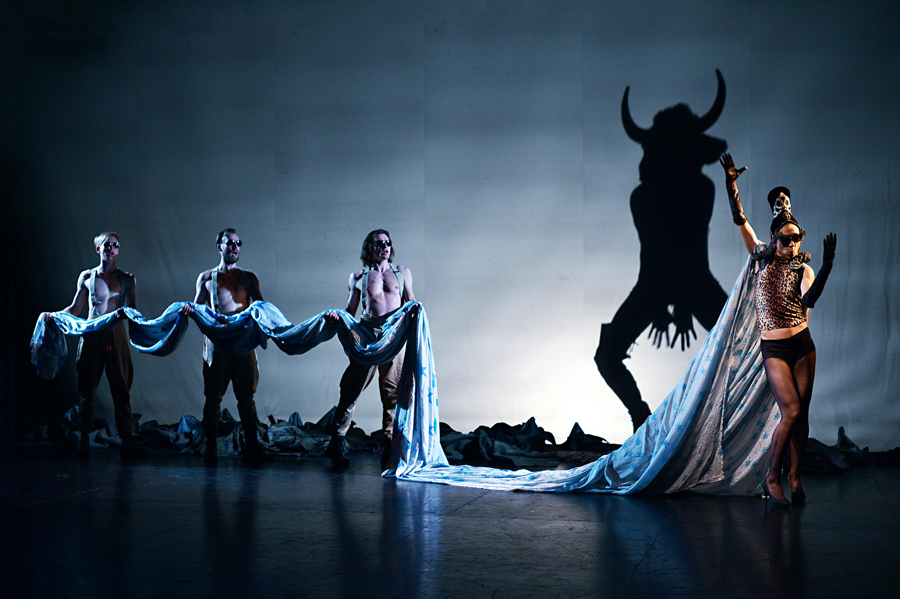 Mark Tompkins and Jean Louis Badet about the performance:
Mark Tompkins: The fact that I know what the actors are saying, because I chose the texts, but do not understand the language is an interesting and creative experience. Since I do not speak Slovenian, I cannot easily comment on their specific expression. But I trust them, I trust that they're aware of what I want to do and will respond appropriately. In recent years my work has focused intensely on musical theater, and I've realized that words are important, but not only because of their meaning. You can hear a performer's musicality, how they speak, how they sing, how they play with text. And I'm very keen to see how we experience that. 
In the process of working on this show, we were dealing with folk traditions and their transformation into the present. It was necessary to know at least the basics of Slovenian history and culture. We got acquainted with the figure of the Kurent and Wildman traditions, whose myths and rituals cover a large geographical territory in Central and Eastern Europe. These rituals mark the transition from winter to spring, which of course reminded us of Stravinsky's and Nijinski's Rite of Spring. Discovering Kurent was important, because it opened a door and created an opportunity to begin the show with rich Slovenian elements. At the same time, we didn't want to limit ourselves to this theme and the show develops and unfolds in radically different contexts, united by an underlying sense of the cyclical nature of life and death, the process in which things die, are reborn, grow and die again. These cycles are never ending, and are the driving force in the performance.
Jean-Louis Badet: I always think in terms of parallels, for example rituals of spring and current events. The Rite of Spring was staged in 1913, just before the War, and strangely predicted the events to come. In the same way today, we feel the danger in the air, the atmosphere of the storm, something we cannot control, and the show expresses something about this atmosphere that escapes us.
Mark Tompkins: In the world of dance and theater, shows labeled as entertainment are often considered to be light and superfluous, as if they couldn't treat important, serious subjects. On the contrary, I am convinced that theater can be enjoyable, funny and fun, and that it's possible to use humor to speak about things that are difficult to express otherwise. And humor has a retroactive effect. We can think about it afterwards and say: "well, it was funny, but not really that funny. Underlying the humor, it speaks about fundamental social and cultural questions and dilemmas. Humor is a tool we can use to say things that are essential without getting too dark or heavy.
Making a show is like a game whose rules you learn while you're playing. If one path leads to a dead end, you start over again, and another path leads to something interesting. My collaboration with Jean-Louis is very important in this sense. Sometimes he makes a costume or a stage element, and says, "Find out what to do with this!" Making theatre has a lot to do with problem solving. Most of the time everything is there, but you have to find the right words, movements, costumes, music, lights, and how to connect these elements together to create the show.
Jean-Louis Badet: In this performance we integrate the elements of dancing, singing and acting with the themes of revolution, the springtime and the idea of transgression. Working in a theatre like Mladinsko is an interesting challenge for us. Since we're at not at home, we're somehow more open to the situation, the group and the Theatre. Some elements of the show come from our complete ignorance of the milieu, intuitive gifts that fall into our hands. The result of the joint effort between the actors, the artistic and technical teams, and us will be our performance: Un Vent de Folie.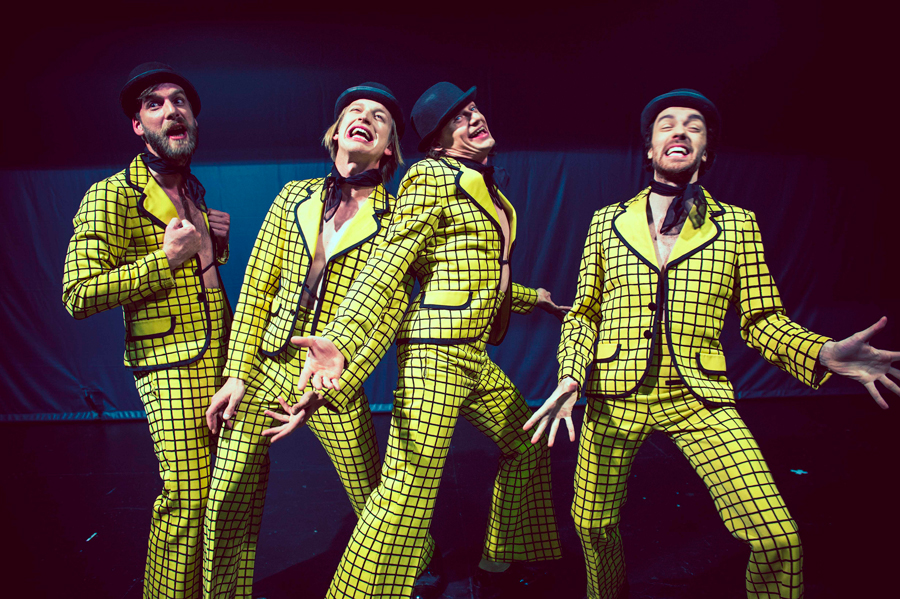 Photos: Peter Uhan 
L'utilisation des textes et photos présentés sur ce site sont protégés par les règles relatives à la propriété intellectuelle. Merci de nous contacter pour toute utilisation ou reproduction, même partielle, des éléments de ce site.
La Cie I.D.A. Mark Tompkins est subventionnée par la DRAC Ile-de-France / Ministère de la Culture et de la Communication au titre de l'Aide à la compagnie et par la Ville de Paris.