I.D.A. Mark Tompkins' Company
Performances
Teaching and Research
LE PRINTEMPS
LE PRINTEMPS
CREATION 2015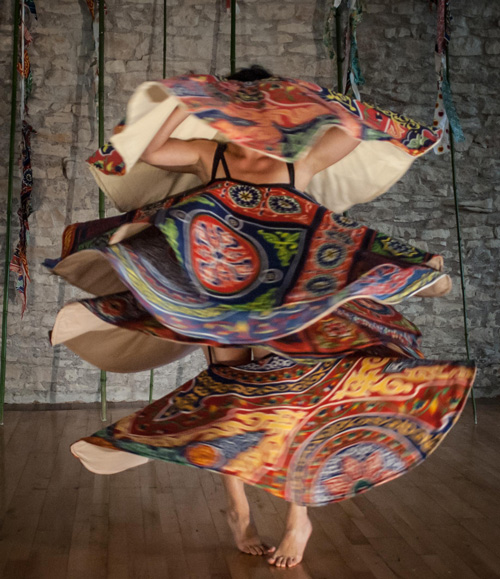 I.D.A. MARK TOMPKINS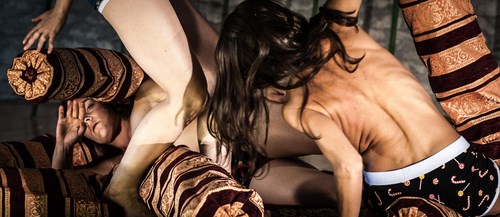 First of all a state
an imaginary territory animated by four strong personalities
resistant and permeable at the same time
somewhere in a no man's land, a dreamed Orient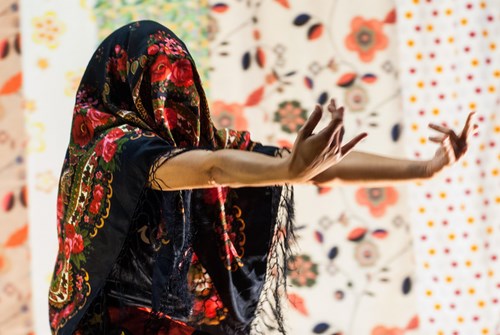 Around Kamilya Jubran, Palestinian singer and musician
the dancers, performers, circassians Silvia Di Rienzo, Anna Gaïotti, Ananda Montange, expose themselves intimately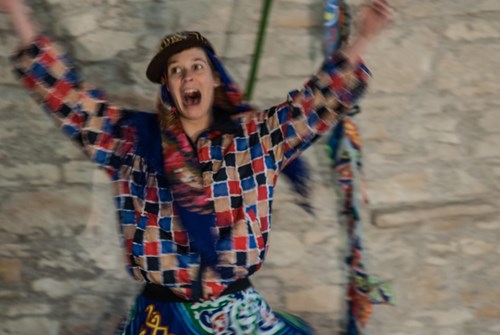 A shared moment that leaves room for each one's imagination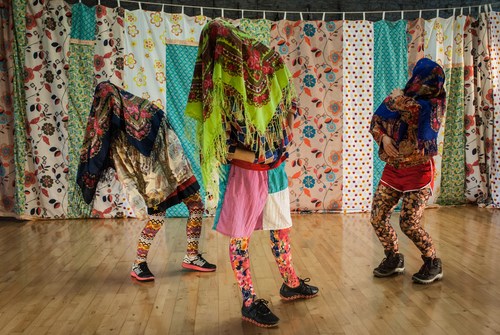 A political reading might be made but what interests us more
is the sentiment of transmission offered by this uniquely feminine universe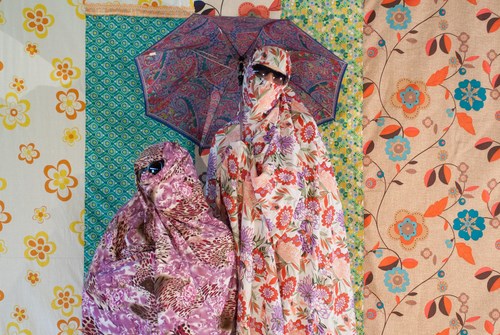 The pleasure of the colors and fabrics from somewhere else
connects the poetic or humoristic sequences in a constant flow of dance and movement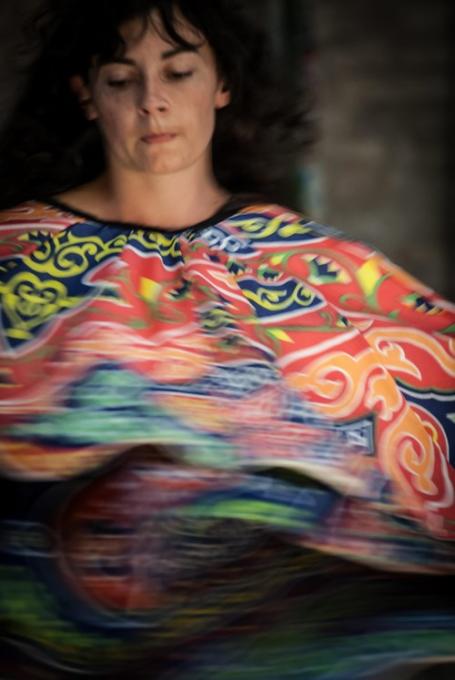 LE PRINTEMPS
Four intertwining solos, four entangling voices, Le Printemps (The Springtime) is a choral performance that evokes the destiny of four women from different origins and paths, dancers, singers, musicians, who question the themes of emancipation, wandering and exile. Freeing themselves from social or moral constraints, they confront, transcend and speak in a singular context that shakes their bearings and certainties.
The piece is constructed from solos that unveil each performers path. The original live music of Kamilya Jubran, singer and oud player, and the scores of Silvia Di Rienzo, Anna Gaïotta and Ananda Montange, composed of actions and states, respond and interpenetrate each other. Through their propositions of dance, play and song, the performance brings into friction the realities of the world and the performers and public's imagination.
How to undo the innate or acquired factors that forge identity? How to free ourselves from our passions and prejudices? And if emancipation is possible, will it match our hopes and expectations?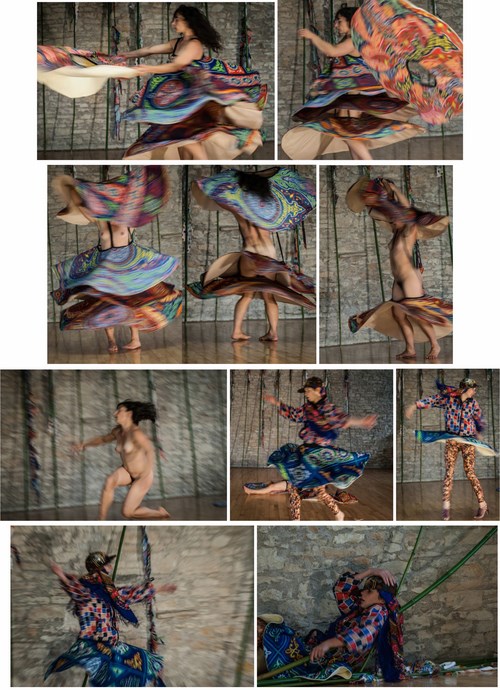 Without ignoring the conflicts and tensions in ourselves, as well as in the reality that surrounds us, we feel the necessity to rediscover the original matrix, the unconscious state of amazement and benevolence of the world. Four strong and independent personalities reinvent before us the heritage known by all: the drive of life and survival, stronger than anything. The closed space of the stage becomes the world.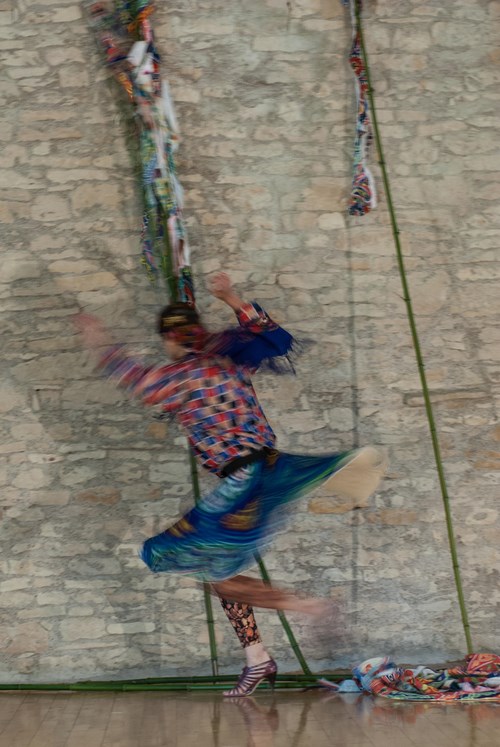 With
Kamilya Jubran
Silvia Di Rienzo
Anna Gaïotti
Ananda Montange
Conception: Jean-Louis Badet and Mark Tompkins
Artistic direction: Mark Tompkins
Scenography and costumes: Jean-Louis Badet
Light: Séverine Rième
Music, Voice, Oud: Kamilya Jubran
Words of Fadhil Al Azzawi, Paul Chaoul, Hassan Najmi
Dance: Silvia Di Rienzo, Anna Gaïotti, Ananda Montange
Texts: Anna Gaïotti
Administration, touring: Amelia Serrano
Administrative collaboration: Sandrine Barrasso
Duration : 60 minutes

Premiere May 18 & 19 mai 2015 at Rencontres chorégraphiques internationales de Seine-Saint-Denis, à La Parole Errante, Montreuil 
COPRODUCTION
La Cie I.D.A. Mark Tompkins, subventionnée par la DRAC Ile-de-France / Ministère de la culture et de la communication au titre de l'Aide à la Compagnie, Le CDC Toulouse/Midi-Pyrénées (accueil studio), Fonds SACD Musique de Scène. Avec le soutien : La Villette - Résidence d'Artistes 2015, La Briqueterie CDC du Val-de-Marne, La Ménagerie de Verre (StudioLab), le Centre National de la Danse, micadanses Paris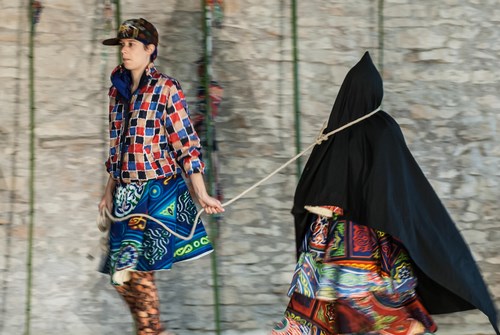 The truth is oppressing
Can we hide the sun with a sieve
They killed me, yes they killed me
I was sacrificed
I awaited my turn
I disintegrated entirely
Yes they killed me
War is less rude than love
Sawsan Darwaza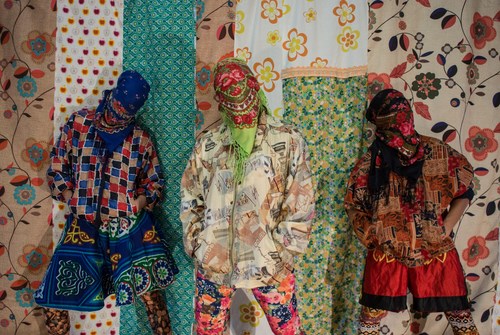 if you want to be spared when the enemy strikes
so that he won't strike you when he strikes
then you must be his tender friend
you must seduce the enemy
and be his tender friend
Anna Gaïotti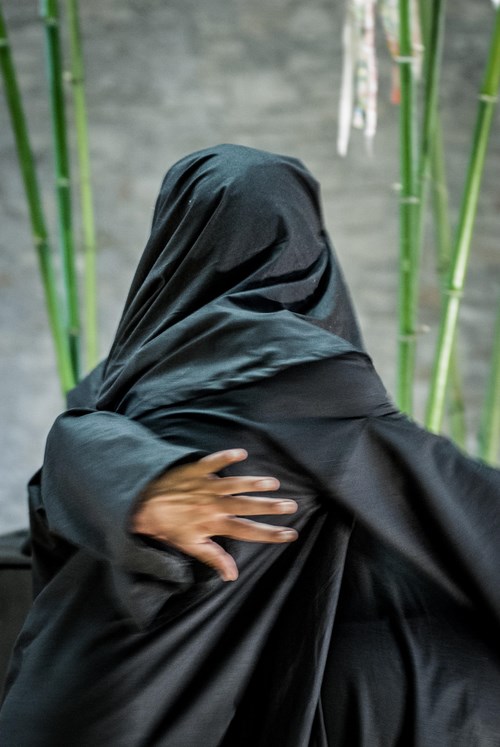 where is the silence ?
she who that the shaved grass can not
where is this whore ?
that she leave me in peace
that she wither my thoughts
that she shipwreck me
that she loses me
that the languor foams
that the laziness coughs
the virus
that my body experiences
the wreckage of joy
and the joy to marry the moist wetland
i want to fuck this whore
and fall asleep
i want to fuck this whore
and fall asleep
Anna Gaïotti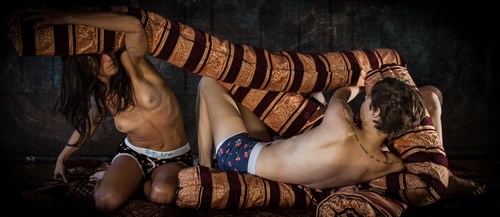 BIOGRAPHIES

Kamilya Jubran was born in Israel, from Palestinian parents. Her father Elias, a luthier of traditional instruments, initiates her as a child to music and classical Arab Egyptian repertory. In 1981, she begins to study at the Hebrew University of Jerusalem to become a social assistant. But after one year, she decides to consecrate herself entirely to music and joins the Palestinian music group Sabreen à Jerusalem. For twenty years, she is the lead singer, plays ganoon and oud and makes four albums with them. Under her impulse, the group tours in many Palestinian cities and abroad. This dynamic period is a source of evolution for her towards contemporary Arab song. In 2002, she receives a scholarship in Switzerland that orients her music in a new direction. Today, as a composer, singer and musician, she continues to explore new horizons. She lives and works in Paris since 2003, and collaborates notably with Werner Hasler, trumpet player and electronic musician from Bern, and the composer and double bass player Sarah Murcia from Paris.
 
Silvia Di Rienzo studies modern and contemporary dance, improvisation and composition in Italy, England, Belgium and France, as well as literature at the University of Rome, and clown school at the Théâtre Samovar. Living in Paris since 2003, she performs with the companies: Descent-Danse - Laurence Rondoni and Mohammed Shafik; Les Gens du Quai - Anne Lopez; 3.14 - Valeria Apicella; Rue n°8 - Alexandre Pavlata; and with Malena Beer. She participates in the performances of Vincent Macaigne, Pauline Simon, Gaspard Guilbert, Tomeo Vergés and Richard Zachary. In 2013, she creates C&C with Stefania Brannetti, an Eco-artistic street dance company. She also animates workshops in the projects of Sandrine Maisonneuve at the Rencontres chorégraphiques internationales de Seine-Saint-Denis. Ashtanga Viniyasa Yoga, which she practices and teaches for the last 10 years, is vital in her life.

Anna Gaïotti

 studies from 2003 to 2009 at l'Ecole nationale supérieure des Beaux-arts de Paris. In 2006, she receives an Erasmus scholarship to go to Berlin. She realizes her first performance with Antonia Baehr, Parfois je suis le chevalier parfois je suis le cheval, learns clothes design and patronage with Patrick Ritz, and creates Cocoon, an installation for La Robe, Gaël Hameau's haute-couture clothing store. Back in Paris, she continues her research with the performances: Pass out; Anniversaire d'Arigmatique; BRIDE 17.10.08; Air de jeu. In 2009, she creates Confidence, the piece with which she obtains her diploma (DNSAP). Her physical engagement leads her to contemporary dance, improvisation and somatic practices. In 2012, she integrates Essais, the Masters studies at CNDC Angers, and in 2014 she receives a danceWEB scholarship at the ImPulsTanz festival in Vienna. She concentrates her practice around performance that she intrinsically connects to fashion and writing, working solo and collaborating in duo or collective projects.

Ananda Montange

 was born in a family of musicians and practices music since a child. Inspired by jazz, dhrupad and diphonic singing, she develops her voice. In parallel, she trains as an équilibriste in the circus schools at Lyon and Chambéry and mouvement theatre with the Théâtre du Mouvement. In 2010, she integrates the Extensions program at the CDC of Toulouse. The encounters with Alain Maratrat, Gyohei Zaitsu, Thierry Bae, Diane Broman and Mark Tompkins allow her to question the work of improvisation, which constitutes an important part of her current research. Since 2012, she works with the companies: Juste Ici, La Canine, l'Association Manifeste et performs with Robyn Orlin, the collective Aaltra, Elisa Fantozzi, the trio Espace-Temps-Matière, and develops Real Time Composition with a collective of musicians and dancers in the project FIRE!

Séverine Rième

 after studies in Modern Literature, she begins to dance in 1997. In 2004, she choreographs the solo Fibres, the trio Hordycie and the choreographic concert Je ne suis personnes. In 2008, she follows training in light design and creates Last Last, in praise of shadows. She co-signs with Alexandre Roccoli Drama per Musica in 2011 at the Pompidou Center in Paris. Since 2010, she develops her work, lighting six performances of Myriam Gourfink, and creating light for Marianne Baillot, Volmir Cordeiro, Lorena Dozio, Annabelle Guérédrat, Kevin Jean, Arantxa Martinez, Enora Rivière, Gaël Sesboüé, David Wampach. In 2012, she dances in Tino Segahl's performance for the exhibition Danser sa vie at the Pompidou Centre. In the era of over exposition, she works with shadow and obscurity to give a glimpse and imagine rather than pretending to give to be seen.
Mark Tompkins
After a series of solos and group collaborations, he founds the Company I.D.A. in 1983. Over the years, Tompkins' unique way of fabricating unidentified performance objects has become his signature. Solos, group pieces, concerts and performances that mix dance, music, voice, video and text are steps of this journey initiated in the 70's, and continued with the complicity of the set and costume designer Jean-Louis Badet since 1988. His passion in improvisation and real time composition leads him to collaborate with many dancers, musicians, light designers and video makers. Since 2003, his performances evolve towards musical theater, inspired music hall, cabaret, vaudeville, musical comedy, burlesque. In 2008, he receives the prestigious SACD Choreography Prize for all his work (Society of Dramatic Authors and Composers).
Jean-Louis Badet, Stage and Costume Design
After painting studies at the School for Fine Arts in Paris and Perugia in Italy, he moves to Denmark, where his painting activities lead him to collaborate with many choreographers, creating sets and costumes. From 1980 to 1992, he directs Espace Danse at the French Institute of Copenhagen, which presents and produces young French and international choreographers. Since 1988, he is the stage and costume designer and artistic collaborator of the company I.D.A. In 2010, he performs in Christian Rizzo's L'Oubli, toucher du bois.

Jean-Louis Badet and Mark Tompkins create performances together since 1988. In the 90's, in Arbecey, they renovate an old cheese factory in a small village in the Franche-Comte region of France, then a house into a guesthouse and studio. Since 2002, they organize summer workshops with international artists and prepare their productions.
EXTRAITS DE PRESSE
"Springtime" by Mark Tompkins
At the Rencontres chorégraphiques, Mark Tompkins premieres Springtime a homage to women
By Thomas Hahn
http://dansercanalhistorique.fr/?q=content/le-printemps-de-mark-tompkins
The deluge of colors does not stop for an instant. In Springtime, the three dancers' hijabs and niqabs irradiate the space and burn the retinas, like the sun at its zenith. It is rare, and growing rarer, for costumes to have a starring role in dance. Here, they create an unprecedented visual and physical potential. This slow accumulation, one stitch at a time, is reminiscent of Alain Platel's Tauberbach, where the entire stage was littered with clothing. But here it has the opposite effect. In Platel's piece, the dancers were concealed, while in Tompkins' the three women are revealed from every angle.
Costume and set designer Jean Louis Badet maintains the bodies of the three dancers in a state of constant transformation: they go from misshapen monsters to nudity at its most vulnerable. And what completes the painting (there is a good dose of Klimt in these dazzling mosaics) is the fact that this whimsical nudity results from the most dizzying striptease of all time: performed by a whirling dervish. One after another, she removes each of five cloth rosettes encircling her.
It recalls artist-designer Majida Khattari's runway shows, which offered a range of subversive variants on the Islamic headscarf. But even she did not plan on putting the "Arab Spring" on a burning carpet. More in the vein of Nijinsky, spring is also a time for sacrificing young women. Tompkins fosters this ambivalence, going so far as to show the dancers in positions suggesting stoning or sacrifice. But at times they also recall the witches from Macbeth, or modern women aspiring to a form of emancipation through the body. All of that in a single image.
With their bizarre jumps and their deliberate losses of balance, our female athlete-warriors develop a gluttonous appetite for combinations of neon swimwear, floral-print leggings, and other almost traditional motifs. They can pounce on the slightest sock like drug addicts starved for heroism. Above all, Springtime speaks of the extent to which all myths intersect and have common roots, from the Redskins to the Incas, by way of the desert and of course the Olympic stadiums in our times.
Springtime is the blossoming of otherness in all its forms, even in our midst. This springtime full of promise is embodied by the voice of composer and singer Kamylia Jubran, who is a symbol of the political struggle for all freedoms. Here she accompanies the three (un)veiled warriors like a benevolent spirit, interpreting lyrics as perfumed as those of the Moroccan poet Hassan Najmi: "Your radiant face blossoms each night /…/And I have forgotten how to walk /…/ Jealous of your lightness / This bench has become too narrow for us both / Let me then /…/ Drink your sap and stay thirsty…"
Though we might have expected Tompkins himself to sing or make us laugh as he has in the past, we still find the subtle dialogue between outward appearance and hidden layers we associate with him. We also recognize his political engagement and the questions he poses on stage without shouting, but by creating images that speak to all those who would like to say, in the words of the Iraqi writer Fadhil Al Azzawi: "May light be upon the world! / I am waiting for the universe to begin again."
Rarely has speech found such relevancy in a dance piece. Here is an example of what we hear, in French, from the pen and mouth of Anna Gaïotti, one of the three protagonists: "Where is the silence? Where is that whore? / Tell her to leave me alone / To make my thoughts wither / To cast me off / To lose me / May laziness froth / May phlegm cough / The virus / that my body endures / The wreckage of joy / And the joy of embracing the clammy earth / I want to fuck that whore / and fall asleep / I want to fuck that whore / And fall sleep... The whole thing shouted by a sort of anti-swan, just like there are antiheros among men, perched high upon her stilt-like heels.
Springtime choreographed by Mark Tompkins at La Parole Errante in Montreuil
22 May, 2015 by Denis Sanglard
http://unfauteuilpourlorchestre.com/le-printemps-choregraphie-de-mark-to...
They are female warriors, dressed in jarringly colorful garb or men's soccer uniforms which they sarcastically reinvent and make their own, perched at times on platform shoes that twist their ankles. These Middle Eastern women-warriors emancipate themselves from the dictates of male oppression, which imprison them beneath the black veils known as the burka. This appears in a zany scene where two black ghosts dance, do karate moves, and then disappear. They are veiled, yes, but in kitschy multicolored fabric which they play with and emancipate themselves from. The veils come off during a Sufi whirling ritual turned Dance of the Seven Veils. Except here, Salomé spins like a dervish, casting off her floral corollas to reveal her body in its nudity, so intoxicated by freedom she falls down dancing. A magnificent and astonishing scene that might be used to sum up this new work by Mark Tompkins, which is above all about unveiling. These women get naked literally as well as figuratively. It is a powerful gesture of self-appropriation in the absence of moral, social, religious and sexual constraints. And all these shimmering, vibrantly flashy colors they dress in—that they pile onto their bodies until they become formless—are the banners of a deliberate and fragile freedom that contrasts with the dark uniform of the niqab, a symbol of their alienation. All of this is strangely reminiscent of the work of photographer Shadi Ghadirian or artist Sara Rabhar, both Iranian. It is a political, feminist piece marked with gravity but, as always with Mark Tompkins, also poetic, offbeat and funny. He latches onto clichés about the Arab world, using them for his own purposes, and confronting them with naked reality. Whether it is a pilgrimage to Mecca or the sensual vision of a harem, color splatters and overwhelms everything like the harbinger of change, skewering things by reclaiming and transforming them. It is a twisted, and very clever. Even bodies, soon subjected to a "transformism" all their own, are not exempt. With the exception of a striptease and an attempt at walking on dizzyingly high platform shoes, the body is masculinized by the appropriation of male symbols like tracksuits and soccer uniforms, which hide and model them at the same time, giving them a new gender, a symbol of their resistance and the equality they demand.

BALLROOM #6 June / July / August 2015
By Gérard Mayen
SPRING Mark Tompkins
Veil and Jubilation
There is a splendid solo in Springtime, Mark Tompkins' latest piece: a dancer dressed in giant flounces begins to spin. The fabric floats up. We quickly glimpse the nudity underneath. Releasing one flounce after another, the dancer slowly undresses. She continues her dervish-like gyration and the body's roundness is distributed around the spinning top's vertical axis to splendid effect.
This way of getting undressed is so technically unusual that we get attached to it as though to a construction. Nudity emerges like another costume. Tompkins' art lies in this type of reversal: though Springtime is intensely colorful and sensitive, its reading liberates signifiers from stifling conventions, from the formatting established by dominant representations.
When we hear "Spring" we sometimes think "Arab."When we hear "Arab woman" we almost necessarily think "veiled." There are indeed niqabs in this piece, but only long enough for a physical gag. Everything else is about the joy of reclaiming womanhood, a joy often brandished bare-chested in a string of appearances and enigmatic situations. It is the freedom to look that must be unfettered. And not the perpetuation of the media's bad habits.
We meet Kamilya Jubran, a highly contemporary Palestinian musician. We pick up the fertile sounds of Arabic poetry. We watch uncertain dances of uneven and staggering steps, the ruckus of three rebellious female bodies who are also circus and street performers. We calmly glide through the dynamic disorders of improbable harems.
Let us linger, for a change, on the language of the costumes themselves: the eccentric wardrobe of sports' champions, Arab silhouettes, and urban creatures. We don't know if their veilsbelong to genies, fairytale babushkas, fortune-telling bohemians, barhopping Pussy Riot members, North African mothers, or masked combatants on the frontlines of time's harsh manifestations.
Guess What You Are
Mark Tompkins
At the rencontres chorégraphiques de Seine-Saint-Denis, American choreographer Mark Tompkins proposes a colorful vision of the (Arab?) Spring.
Movement, 5 June 2015, by Aïnhoa Jean-Calmettes,
http://mouvement.net/critiques/critiques/deviens-ce-que-tu-es 
Driven into a corner by the performance just before it, the audience went into Spring in critical overdrive. There was a touch of bad faith, an eagerness to find fault at every opportunity. So, what seemed like overly explicit symbolism at first but turned out not to be, rubbed some the wrong way.
First there was the marvelous set of an Arab courtyard (in a harem?), then a miniature Kaaba, then the bodies of women in niqabs swathed in their bewitching veils—while the figure of another woman, no less a prisoner of her image, stood teetering in platform shoes.
Except that Springtime is one of those pieces capable of chipping away at bad faith. All of the most dreaded clichés were swept away in one fell swoop, and the identities we feared would be too indexed become as shaky as Anna Gaïotti's platform shoes. With a few ninja moves, the women in their niqabs channel all the erotic incandescence of the female body. Brought onto stage with a rope around her neck, Ananda Montange launches into a frantic dance, a sort of spinning ritual during which she releases several swatches of colorful fabric covering her body, victoriously revealed in its unselfconscious nudity. Bodies come and go, somewhere between geisha and Star Wars creature. Movements, from slithering snake to karate chop, are set to the chords of singer and oud player Kamilya Jubran.
Everything moves, unfolds and transforms in a welcoming atmosphere that owes a lot to the cheerful colors of all the fabric and transformative accessories which litter the playground of the stage. You may even find yourself letting out an involuntary laugh during this celebration of emancipation.
Mark Tompkins' Female Spring
20 May 2015 by Delphine Goater
http://www.resmusica.com/2015/05/20/le-printemps-feminin-de-mark-tompkin...
What does femininity mean in the Arab world? At the Rencontres chorégraphiques de Seine Saint-Denis, in Springtime Mark Tompkins sets his sights on the mythical and political figure of women in the Arab world. A very colorful ode.
Downstage a woman sits playing the oud in a warm and caressing light. Singer, Palestinian musician Kamilya Jubran created the music for the show and sings poignant songs based on the verses of great Iraqi, Moroccan and Lebanese poets. Despite the oud's slow rhythm, we find ourselves enchanted by this melodious chanting.
Three female figures gather around her. Libertarian, submissive, fierce or sensual, they are muses straight out of the Middle Eastern imagination. The most modern is the liberated woman of the Arab Spring, a democratic activist whose forehead is encircled with slogans, brandishing flags in front of us. Her veiled companions give each other a hug before launching into a funny, off-beat kung fu combat. In his shows, which are reminiscent of vaudeville or the American musical comedy tradition, Mark Tompkins always favors gags or slapstick to convey a political message. Here, his message is feminist. He piles boubous and richly brocaded fabrics on his dancers, not so that they blend into the background, but so that they assert their difference.
In the soft light of a desert evening, against sand-colored floor and walls, these bright colors take after the show: they are hybrid. From the harem to the whirling dervish, from the black cube which recalls the Kaaba in Mecca to the clothing of suicide bombers, all these images paint the kaleidoscopic portrait of an Arab woman, torn between her culture and her freedom.
Mark Tompkins' Sacred Spring
19 May 2015 by Amelie Blaustein Niddam
http://toutelaculture.com/spectacles/danse/le-printemps-sacre-de-mark-to...
Tompkins has moved onto something else. After his trilogy Opening Night, whose praises we were already singing in 2013, and then Black'n'Blues and Showtime, he looks back at the Arab Spring using the images of a fantasy woman as a central theme.
When Kamilya Jubran, a Palestinian singer and oud player walks out onto a stage where a black cube has pride of place, we are dubious. Even more so when a colorfully dressed female warrior in a soccer jersey seizes fabric-tipped spears. Still, Springtime quickly kicks into gear and the images become like strong words. There are four women in all: Kamilya Jubran, Silvia Di Rienzo, Anna Gaïotti, and Ananda Montange. Each is different, whether in terms of body-type of physique. A musician, actress, dancer or performer. The four of them already form a plurality, the obliteration of a nebulous theory that tries to essentialize "woman" as one. Tompkins takes every possible risk: reimagining a whirling dervish ritual as a magnificent striptease, letting us experience a pilgrimage to a miniature Mecca, bringing us to the harem.
He speaks about imagination and fantasy using clothes. Hence there are two fully veiled women who face off in a battle worthy of Star Wars. There are scarves covering faces. Once he's introduced the symbols, he lays into them, making the girls dance in the least sensual way possible, their pelvises tense, their bodies falling backwards, their knees twisted, particularly on very high platform shoes. They are very urban, with colorful leggings, caps and other athletic gear. As always in Tompkins' work, we laugh, though here less that usual, for the show becomes very political. The veils come unveiled, and the women became activists thanks to their male clothing. Now they have weapons and they cover themselves in them. Like walking billboards for American brands, these girls could easily join a hip-hop girls band.
Spring
Mark Tompkins
31 May 2015, by Philippe Verrièle
https://verrielephilippe.wordpress.com/2015/05/31/le-printemps-mark-tomp...
The musician sets up stage left in a hodgepodge of clothes. Dark and austere, she slowly tunes her instrument while a young warrior moves flags of torn fabric. Colorful and fantastic, she has the brusque body language of a homegirl who's afraid she's not being taken seriously. It takes ten minutes for the singing to begin – grave, deep and somber. Two women in niqabs launch into a combat somewhere between kung fu and Star Wars and the first dancer comes back in very high heels leading a woman by a rope. Then the piece changes gears. The submissive and animalized woman launches into a whirling dervish routine which, by virtue of centrifugal force, lifts her skirts in an extraordinary strip tease. She ends up naked and liberated. Mark Tompkins thus likens clothing to a servitude which must be cast off. The astonishing finale is none other than the reversal of this liberating striptease: the three performers cover themselves with all the clothing possible until they appear formless. This remarkable piece of political incorrectness is fueled by a Middle Eastern imagination seen through the prism of women's lib, while the music speaks gravely of war and exile.
An additional note:
A female trio accompanied by an oud player, this original piece by Mark Tompkins continues the choreographer's characteristic exploration of gender. We may remember that Animal existed in two versions, Male (2005) and Female (2007), and already partially invented a kind of mythical Middle East. Even earlier in the choreographer's career, we may remember Trahison Men (1985) and then Trahison Women (1986). In the current piece, the issue of womanhood paradoxically appears in the absence of men. When will we see a "male" Springtime?
Reference:
With its large parallelograms, the set, designed by the irreplaceable Jean-Louis Badet, recalls a Kasbah or Medina but also Maguy Marin's Nocturnes (2012), a piece that was also fueled by a powerful Mediterranean imagination.
The Marseillaise – 6 October 2015
By Jean Barak
Mark Tompkins makes "Spring" in Autumn
Mark Tompkins founded his company in 1983 after a series of solos and participations in collective pieces. We have seen him dance, sing, choreograph and create unidentified dancing objects, and bizarre and fiercely self-mocking transgender happenings with an SM aesthetic, inspired by transformative cabarets and vaudeville. He is afraid of neither kitsch nor ridicule nor the grotesque. On the contrary, he uses these as arms against himself. He combines literal illustration with the transgression of codes, but always with humor.
Springtime
This piece is a departure from what we know of his work: the message is less dark, more empathetic, and has gained more gravity. The time for individual revolts against the system and exacerbated marginality are over, here he tackles the painful theme of the revolution and its aftermath.
His Springtime is resolutely Arab. First of all, there is Kamilya Jubran, a Palestinian musician with her mane of white hair, holding her precious oud in her lap. A miniature Kaaba decorated with banners in the central place, suggesting we are in Mecca, the center of the Middle Eastern version of the true faith.
Two women in niqabs show up, but they turn into ninjas before vanishing. A whirling dervish appears beneath which she escapes from, leaving her naked.
There is a fine line between gratuitous exhibition and owning one's body without the veil. Here, the message is resolutely feminist.
Four women cross paths, Silvia Di Rienzo, a clown-like dancer; Anna Gaïotti, a performer; and Ananda Montange, a dancer and circus artist. Amidst an abundance of brand name clothes they dance awkwardly, undressing and dressing until they are formless beneath all the accumulated layers. They are accompanied with singing, the occasional note, and Kamilya Jubran's silences:
The truth is oppressive
Can we hide the sun with a sieve?
They killed me, they killed me
I was sacrificed
I waited my turn
I came entirely undone
Yes, they killed me
War isn't as rude as love.
Sawsan Darwaza
Between a fantasy and a parody of the Middle East, Tompkins is a gleeful blasphemer. Don't let it get out or he might risk a fatwa, and don't tell anyone he undresses his dancers either, or he could be barred from all the towns controlled by the Front National, and soon from all the brown, ethnically purified regions. The worst is never certain, Inch'Allah.
The piece is powerful and caustic, but being serious doesn't mean you can't be funny.
Let's hope spring survives the winter, and that we stay warm through all the cold spells ahead.
L'utilisation des textes et photos présentés sur ce site sont protégés par les règles relatives à la propriété intellectuelle. Merci de nous contacter pour toute utilisation ou reproduction, même partielle, des éléments de ce site.
La Cie I.D.A. Mark Tompkins est subventionnée par la DRAC Ile-de-France / Ministère de la Culture et de la Communication au titre de l'Aide à la compagnie et par la Ville de Paris.